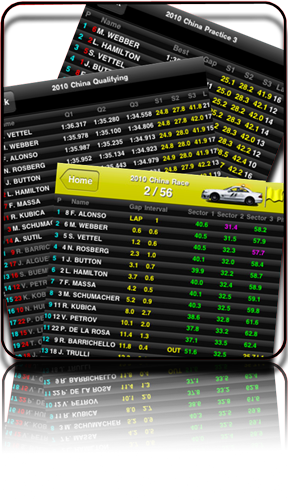 Timing
The Timing-Screen lists all the details of a session, like Position, Lap, Time-Gap to the leading car, Time-Interval to the next car, Lap-Time, all Sector-Times, number of Pit stops and many more. The colors indicate if a time is a personal- or absolute-best, if a care is in pit or on track or which time is the most recent one.
The Navigation Bar keeps you up to date about the track-status, which flags are shown, if the safety-car is standby or on track, how many laps are left to race or how much longer a Practice- or Qualifying-Session will last.
Depending on the kind of Session, different columns and other information are displayed. For Practice- and Qualifying-Sessions, the number of laps on track is displayed and in Qualifying-Sessions, the lap times of all 3 parts are available to you. See the track getting faster or impact of rain or wind.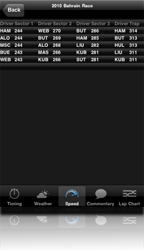 Speed
The Speed-Screen displays the six best straight-line speeds achieved in that session at four different, predetermined points on the circuit.