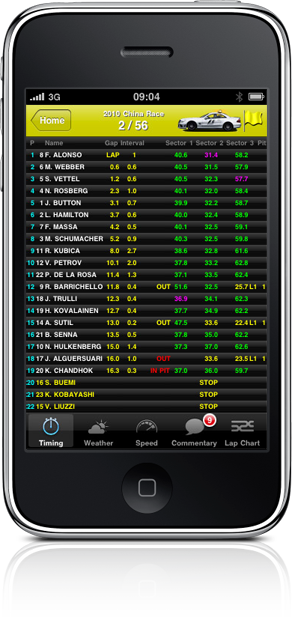 Available Now!

F1™ Timing data on your phone
With F1™ Figures you get the same data on your phone like the Formula 1™ Team Managers at the Pit Lane Command Post.
F1™ Figures puts you there, where the action is!
F1™ Figures is a Formula 1™ Timing Viewer Application for the iPhone, iPad and the iPod Touch. Connect to a data provider and get Lap- and Sector-Times, Weather-Data and Commentary of Practice-, Qualifying- or Race-Session data from the current or past seasons.
F1™, FORMULA 1™, FORMULA ONE™, FIA FORMULA ONE WORLD CHAMPIONSHIP™, GRAND PRIX™ and related marks are trade marks of Formula One Licensing BV, a Formula One group company. All rights reserved. This application is unofficial and is not associated in any way with the Formula One group of companies.